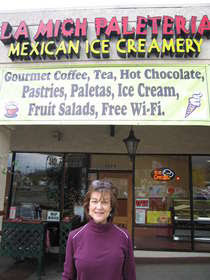 For over 25 years, even before the words ramen, pho and birria had passed the lips of L.A. gourmands, Linda was serving up verbal interpretations of such specialties to adventurous food loving readers of the Los Angeles Times and Los Angeles Magazine where she has regularly contributed columns since 1985.
Her palate was nurtured at an early age when her Italian Aunt Elvira fed her sfogliatelle for breakfast and let her sample homemade apricot wine. As a toddler on the family vacation, her first question was "where are we gonna eat?"
To find the answer to this all-important question, Linda has traveled the globe tasting and sampling the world's edible wonders (no village or town is too obscure if they're known for a delicious specialty) and documenting those findings in her books, articles and radio commentary for the Splendid Table,  Eat: Los Angeles on Off-Ramp (KPCC) and other outlets.
Among her books are the well-respected Asian Pasta: A Cook's Tour of the Noodles, Wrappers and Pasta Creations of the East, A Guide to Ethnic Food in Los Angeles (HarperCollins) and the local guidebooks, the Zagat Marketplace Survey and The Cook's Marketplace, Los Angeles.
Linda's work has appeared in Saveur, Food & Wine, Shape, Voyager, Chicago Tribune, and Food Arts among other publications. She is also a contributor to the EAT: Los Angeles website.
Linda lives in Santa Monica with her husband, cinematographer Stephen Burum, but she roams the world in her never-ending quest for that great restaurant, food artisan or secret little cafe.